Utila Whalesharks
There are 11 dive shops and three resorts on Utila each with a dive operation. Considering the size of the island that is a large number of operations. Utila boasts that it is the cheapest diving in the world but actually there is a wide assortment of operations and pricing from bare bones to almost full-service diving. However, on most boats the dive staff does not take your tanks and some ladders are down right impossible to ascend.
Some of the World's Most Affordable Diving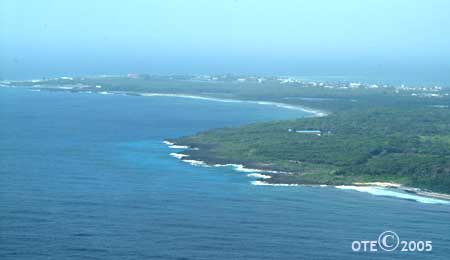 The small island of Utila is one of the three Bay Islands of Honduras along with Guanaja and the most popular destination of Roatan. Utila has only recently been discovered as a dive destination, having evolved from a backpackers' paradise into a full-service resort area.
The easiest way to fly to Utila from the east coast of the United States is through Miami, Florida. Traveling from the West Coast generally requires connecting through Houston, Texas. We highly recommend direct flights from the U.S. to Roatan, connections through San Pedro Sula can be very time consuming. Both Continental and Taca airlines fly in and out of Roatan every Saturday. American and US Air may soon offer direct flights as well. Continential has the best connection times with Utila, being only a short hop, weather permitting.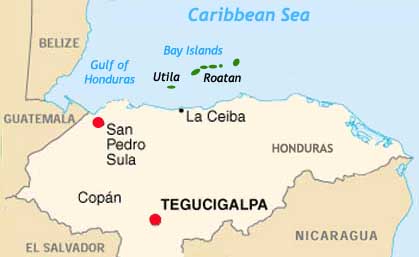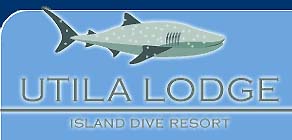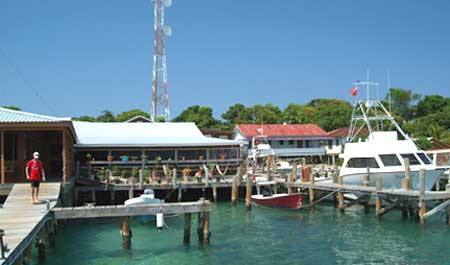 The Utila Lodge is the oldest resort in the Bay Islands. Purchased in 1993 by Jim and Kisty Engel, Utila Lodge has been transformed into a warm and welcoming haven catering to a wide range of divers. The Bay Island Diving School is connected to the lodge using the same facilities and offers a wide range of classes from beginner to PADI Professional Instructor.


Utila Diving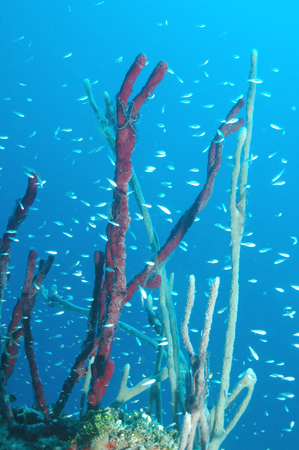 There are 11 dive shops and three resorts on Utila each with a dive operation. Considering the size of the island that is a large number of operations. Utila boasts that it is the cheapest diving in the world but actually there is a wide assortment of operations and pricing from bare bones to almost full-service diving. However, on most boats the dive staff does not take your tanks and some ladders are down right impossible to ascend. You get what you pay for!!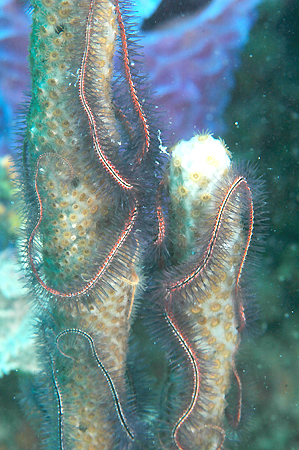 Underwater is typically Caribbean with a few more sea fans than other locations. The big animals have been mostly fished out, although tarpon and the turtle are occasional seen. However, manta rays are never seen in the shallows and sharks are all but gone. Lynn made many envious when she managed to photograph a couple of silky sharks in open waters.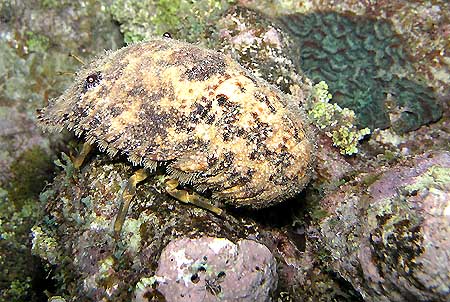 There are about 35 dive sites within five to thirty minutes from the dock. They are home to a multitude of fish including snapper, grouper, angelfish and single-spot butterfly fish. Eagle rays and hawksbill turtles are often seen there.
Night dives in the shallow waters around Utila are a pleasant experience with numerous shrimp and lobsters including the occasional
slipper lobster.
North Side Diving
There are an equal number of dive sites on the north side but they are further away from most of the resorts and sometimes the wind prevents the boat from going around the point. Two of the popular dive sites are Duppy Waters and the Maze. There are also several good sites in Turtle Harbor.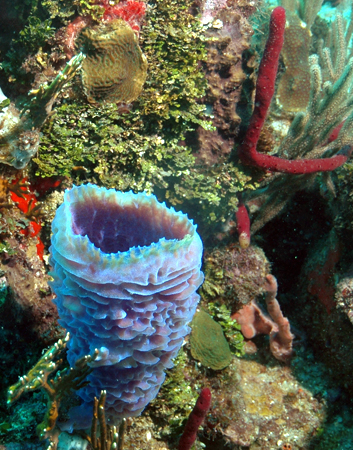 Duppy Waters is about a 60-foot dive and the bottom is covered with a wide assortment of corals, sea fans, sea rods and whips. Iridescent azure vase sponges (callyspngia plicifera) protrude from the corals and appear as diamonds in the rough. This one measures six inches but larger ones can often be found.
Nesled below a large gorgonian was a spotted scorpionfish. There were purple sea plums, devil's sea whips, and rough cactus corals. A curious goatfish passed by and then darted away as Lynn focused on something hidden in theVenus sea fan.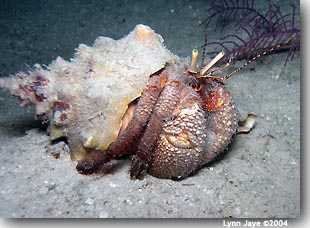 Maze East has many arches, channels and swim-throughs, hence the name. Swimming up and down the channel we were on the lookoutfor nudibranchs and other creatures hiding in the cracks. We saw our first soapfish which was dark and eel-like, hiding in the rocks. This area seems to have more groupers including a black grouper. Porcupine fish, juvenile spotted trunkfish, queen angels and blackbar soldierfish were just a few of the inhabitants of the Maze.
South Side Diving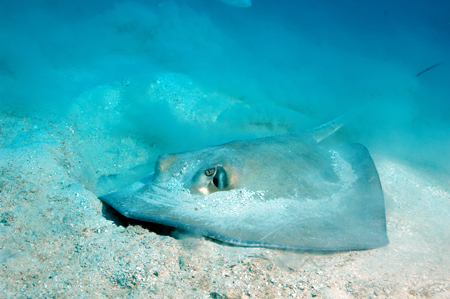 As most of the resorts and the town are on the south side of the island, there are many close by dive sites. Jack Neal, Pretty Bush, Little Bight and Little Little Bight are just a few of the many sites within minutes of the town. Many of the sites have sandy patches where Atlantic stingrays can be found.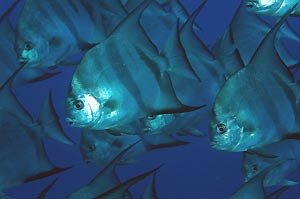 Black Hills is our very favorite and the best dive site on Utila. Being located more off-shore than all the others,a pincenal rises from the deep sandy bottom. Swirling around the upper lip are schools of spadefish, jacks and theoccassional whale shark. We could have easily spent all our dives at this location.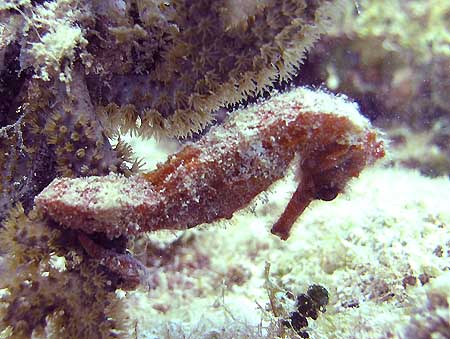 However, we did spend several dives at Jack Neal, a very close and convenient location. Mating squids, garden eels, feather dusters,and colony worms were seen. But the highlight of this area is the one remaining red seahorse. Close to shore, the seahorse hides motionless within the coral. Up to now it has eluded the local kids who collect, dry and sell the rare seahorses to the tourists.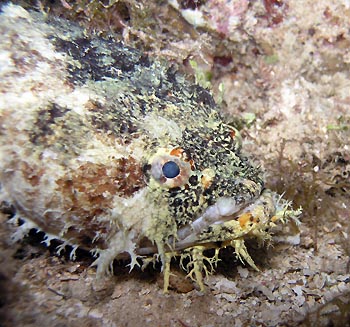 Going for a night dive, we dropped into Moon Hole just as the last rays of the day were fading. A sandy patch surrounded by rocks with many nocturnal creatures waiting to wander in the dark. Lynn found this scorpion fish somewhat concealed but happy to pose for a flash. There are countless shrimp and the dive group played with octupi and a turtle.South side diving offers a wide range of sea creatures from the large schools of fish at Black Hills to the tiny gobies found hiding in the corals at the near-shore dive sites.
This Tobacco fish, not longer than two inches, watches with suspense, as I bring my macro lens within range. You only have to look carefully to find many tiny creatures hiding in the coral, grasses and sandy bottoms. Garden eels sway in the current and each hole in the sandy floor promises yet another animal, if you have the patience to look.
Hidden in the dense gorgonian forest are flamingo tongue snails (cyphoma gibbosum). The yellow and black dots are not on the shell but are actually a layer of living tissue connected to the snail's foot that covers its all-white shell. This exposed tissue works like a fish's gills, exchanging oxygen and carbon dioxide with the water so that the snail can breathe. As this snail crawls along the branch of coral, it digests the coral animals. This gastropod, which means stomach-footed, literally eats with its feet.
Worms flourish in the high-nutrient water that surrounds Utila. Large groupings of white feather duster colony worms are abundant. There are so many colonies that after several photographs I started to look for more colorful ones but white was the most abundant species with their delicate fans swaying in the rich waters.
A coral goby poked its tiny head out so slightly that I almost missed it. It is awe-inspiring to think that Utila has such minuscule creatures while it is home to the largest fish in the sea, the whaleshark.
Whaleshark Encounters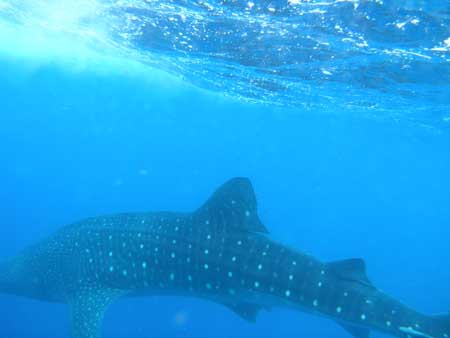 One of the special features of Utila are the whale shark encounters. These are snorkle-only encounters as scuba diving is prohibited except for authorized research teams. The wait is long and the encounters short, sometimes lasting only a few seconds. The boat is pulled alongside the boil (a swarming mass of baitfish and tuna) and snorklers are instructed to jump in alongside the whaleshark. The excitement of seeing a whaleshark before it disppears out of vision more than compensates for the short encounters and long waits in between.
Jim Engle, who runs the Utila Lodge and BICA (Bay Island College of Diving), has been studying whale sharks for more than 12 years and also has been working with SRI (Shark Research Institute). He has now established an independent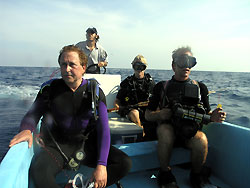 research and conservation organization called WSORC (Whale Shark Oceanographic Research Center) and has started a tagging program. We were able to gain special permission to accompany Luke Tipple, WSORC researcher, on one of his tagging expeditions.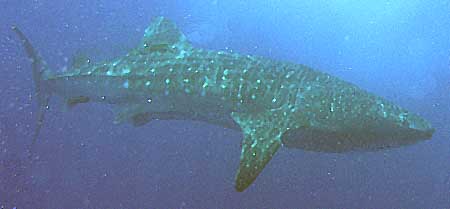 Whale shark encounters are becoming major attractions and a significant source of tourist revenues for Utila. Conservation efforts are under way to enforce encounter guidelines to protect this large pelagic fish and to promote tourism without affecting the local fishing ecnomony.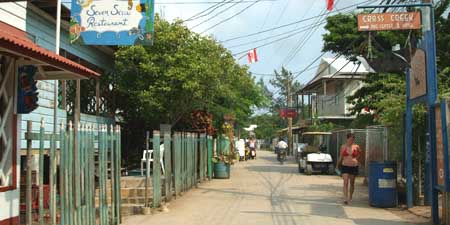 Utila town reflects the rural simplicity of Honduras. Its dirt streets are a bustle of bicycles, motor bikes and three-wheelers by day and a quiet sleepy town by night. More restaurants are opening to cater to the increasing tourists.These dot the main street or can be found by exploring the few side streets. Mango Inn, a short walk from the center of town, has the best pizza on the island.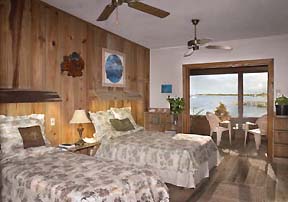 The Utila Lodge has the advantage of being located in the heart of town with nice accomindations and an on-site restaurant and bar.Above the diving school is a rooftop cafe restaurant with views of the lagoon. Many of the marine seminars are held there under the evening stars. A very informative Fish Identification Slide Lecture is offered regularly.
One of the most interesting hang outs is the Jade Seahorse. The hotel bar, restaurant and jewelry shop comes alive at night. The grounds are an amazing decoration of seashells and other bric-a-brac reminiscent of the architect Gaudi from Spain.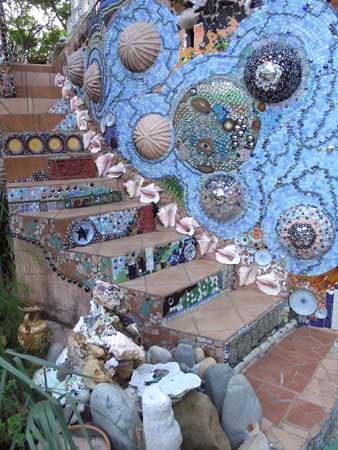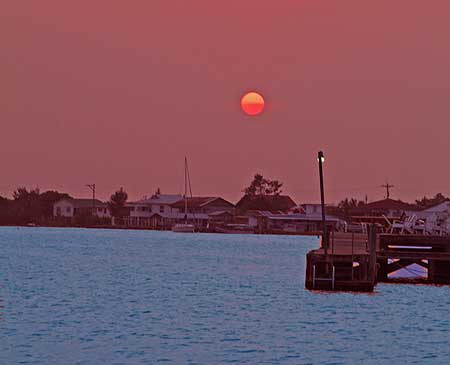 After a full day of diving, we return to the dock under the splendor of another Bay Islands sunset. Even though Utila cannot yet be considered a world-class tourist destination, it does offer many simple charms and adventures in diving.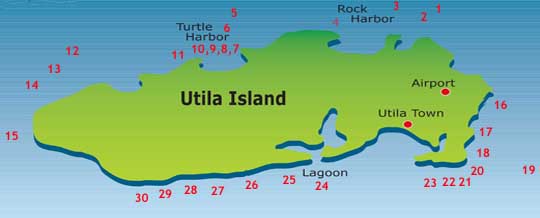 Northside Diving

Black Bird Point
Iron Bound
Jack's Bight
Rock Harbor
Blickish Point
Duppy Waters
Pinnacles
Maze East
Little Maze
Great Wall
CJ's Drop Off
Don
Spotted Bay
Paradisco
Raggedy Cay

Southside diving

Aquarium
Linda's Wall
Ship's Stern
Black Hills
Rocky Point
Ted's Point
Airport Caves
Moon Hole (night dive)
Laguna Beach
Pretty Bush
Little Bight
Jack Neil
Big Rock
Cabanas
Sting Ray
SPONSORS & SUPPORTERS
OTE Magazine would like to thank our sponsors and supporters:
Utila Lodge
Jim & Kristy Engle
Email: info@utilalode.com
U.S. Toll Free: 800-282-8932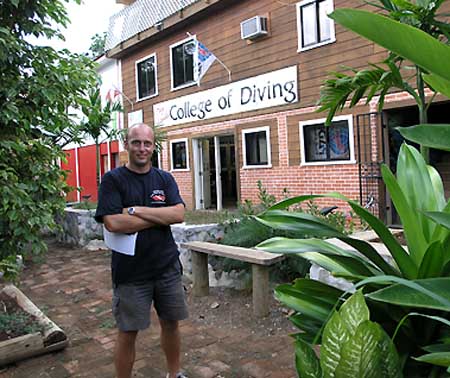 Bay Islands College of Diving, Utila Lodge Dive Resort
Email: darcy@dive-utila.com
Special thanks to: D'Arcy Kelly, Luke Tipple and Tom Rogers (pictured here)

Shark Diver
Patric Douglas, Director
Phone: 415-235-9510
Email: staff@sharkdiver.com

Aqua Dreams Travel
Toll Free: 1-888-322-divE
Email: teri@aquadreams.com

Continential Airlines