Tahiti Iti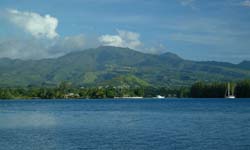 With magnificent scenery above the water, Iti Diving International is situated close to the most beautiful diving sites of Tahiti. Far from the bustle of Papeete, the untouched beauty of sheer underwater walls is complemented by a diverse fauna. Yellow gorgonian fans, napoleon wrasses and green moray eels color the landscape.
Divers should not bypass the island of Tahiti for more exotic destinations such as Rangiroa and Manihi. Away from the main island is the Iti Peninsula. It is a quiet and charming side of Tahiti not to be missed.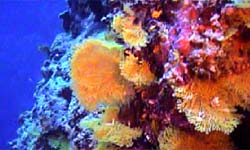 Iti Diving International is located about 38 miles (60 kms) from the town of Papeete, on the West coast of the Tahiti Iti Peninsula. Gilles Jugel and his staff offer several dive opportunities each day all of which are only a few minutes from the dive shop.
Three of the more interesting dive sites are Marado, Vavi and La Gorgone (Gorgonians). Diving is done to each side of the site marker. As this is a sheer wall, one generally dives deep on the way out and returns at a shallower depth. Photographers will find the upper lip of the wall full of interesting subjects with more bottom time.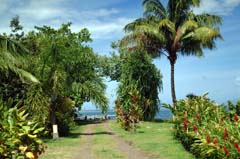 Iti Peninsula acts as a divider between the calm seas and the deep blue. Facing west, it has spectacular sunsets with views of Tahiti's mountain range across the water. From July to October, humpback whales can be seen off the coast.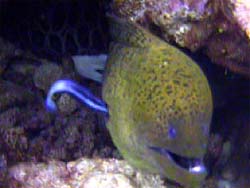 The diving along the Tahiti Iti peninsula is the only place in French Polynesia where you can dive along sheer underwater walls rich with gorgonian fans. Large moray eels are very plentiful along these walls and can be seen on every dive. Some are friendly and swim free providing many photographic opportunities. Enjoy night dives for exciting encounters with rays, sharks and lobsters.
One beautiful calm day, we entered in 20-foot water and approached the lip of the wall. As we peered over the edge, we could see more than 250 feet to the bottom. The spectacular visibility combined with vertical cliffs, made the diving exciting and buoyancy control a must. Tucked in almost every crack was a large green moray. If you want to play with morays, this is definitely the place. A variety of sharks could be seen cruising in the depths below. The combination of the yellow fans and the green morays, not to speak of countless tiny colorful fish, make this wall dive a pleasant surprise.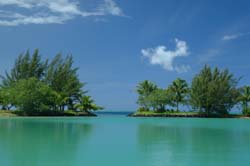 Iti Diving International provides basic equipment (fins, mask, snorkel, weight belt, tank, regulator with octopus depth gauge/manometer, BC) free of charge. They also provide for complete certifications including those from C.M.A.S. and P.A.D.I. The boat has capacity for 7-8 divers. Night diving requires a minimum of three divers.

Even though it is a part of the island of Tahiti, Tahiti Iti feels like your are on a distant island. A couple of days of diving here can be easily added to any trip as all international flights must go through Papeete (especially if layovers are required). To add to the enjoyment, there are several small charming pensions and local restaurants to sample.