Fernando de Noronha
Off the coast of Brazil is an island where the natural world is very protected. Very few divers are allowed in so as to not spoil the natural beauty.
Fernando de Noronha -- a world set apart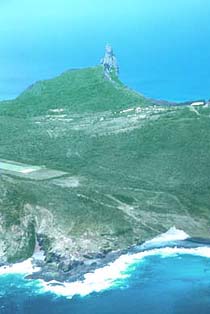 Fernando de Noronha is a protected marine sanctuary. The number of tourists allowed on the island is limited so as not to upset the delicate natural balance. although only a little over an hour from Natal, the island seems to exist far from the rest of the world.
The pilot makes a circle around the island for all to view the beauty below. A huge rock juts out of the island reaching for the sky.
Once on the ground, we must fill out entry forms and pass immigrations including paying a $6 per day island tax. This money goes towards the conservation programs on the island. The sanctuary with its crystal clear water, beautiful sandy beaches and rich marine life promises a week of exciting diving. We have not been this far south or out this far in the South Atlantic Ocean before.
Because of Noronha's location between Brazil and Africa, the constant sweep of currents makes the islands a perfect area for breeding and nursery. It has served as the breeding grounds and playgrounds for one of the world's largest resident schools of spinner dolphins. As many as 14 species of reef sharks also find this area to raise their young until they are largest enough to venture out into the open ocean.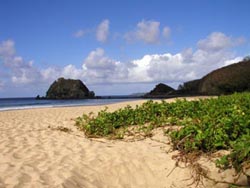 Our baggage was loaded on top of a dune buggy lashed with bungee cords by our 70-year-old toothless driver. We found Atlantis Divers, an hidden building tucked off the beaten track. Elisiane, the only one around that spoke any English, helped us locate a posada and we were off in search of our hotel. The overhead load was barely tied down. I watched it shift as the buggy toiled over the cobblestone road. Thank goodness I had heeded the warnings not to bring too much stuff to the island.
Mar Alantico is a simple pousada at the top of a small hill. Our room is $60 per day for two. There are no 5-star hotels; clean and quiet is what you want. It reminds me of cheap Mexican hotel with the noise of local TV easily heard through the paper-thin walls. The family owners are very nice and helped us in whatever way possible.

There are three dive operators on the island. Atlantis Divers is the largest with two well-equipped catamaran dive boats. Each boat can handle over twenty divers but as we would soon learn, the fewer number of divers the better.
Each morning the truck would appear in front of our pousada and take us to the port where we shuffled down the gangplank to our eagerly waiting boat. Dive operators collect $3.50 per diver per day to support the marine sanctuary program.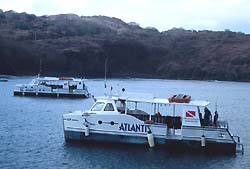 The diving around Noronha is divided into windward and lee as with many islands. Theoretically the best diving period for the Mar de Dentro, the lee side, is between April and December with very clear waters. The Mar do Fora, with its crystalline waters, is favored from November to July when the water is calmer. It is late-November and we are hoping for the chance to dive the Mar do Fora.
Today there are more than 14 divers not counting four dive guides. As we rounded the point and headed through a channel on our way to the first dive site, we found that the seas were very rough and many were getting sick. The dive master rushed the 'green' divers (their color and their experience level) into the water.
Pedras Secas offers two intermediate dives to 58 feet. Large holes in the rocks were created when the Brazilian air forces conducted bomb training several years ago. The swim-through is home to many sea bream and squirrel fish. A large nurse shark can generally be seen sleeping in the rocks.
Our second day of diving was through much calmer seas found in the protected Mar de Dentro, the inner sea, as it is known. Here protected from the wind, we motored past the location of Corveta V17 wreck that sunk perfectly straight up in very deep water. A mixture of gases and a long decompression time including 10 minute breathing of pure oxygen is necessary to make that dive. Nitrox certification is also required although it is too deep to actually use it.
The Corveta Ipiranga lies in 180 feet of water but worth the trouble if you have the correct training. David Taylor of Rodale Magazine claims it to be one of the most impressive shipwrecks in the world.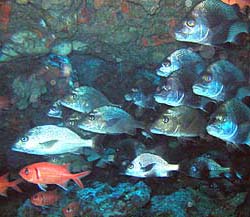 Our first dive of the day proves to be challenging but not as much as the Corveta would be. Sapat dive site at the southern end of the island is an impressive group of brightly colored submerged rocks. The base of the pinnacle at 120 feet is known to be home to large schools of fish and big pelagic fish. The boat had a smaller group of advanced divers by certification but not necessarily by experience. By the way, it is good to discuss your level of experience and expectations with the dive operator. With two boats, they generally try to divide the more experienced divers from the beginners.
This location has been known to sweep divers out to sea as the off-shore currents can be quite strong. We were warned to get down fast and stay as a tight group near the lee of the rocks. We soon found how strong the currents were as we dropped like rocks to the bottom. This turned out to be a very short dive as the dive guides had to deal with problems with the less experienced "advanced" divers. The more current there is, the more sea life. The less current, the easier the dive. Take your pick.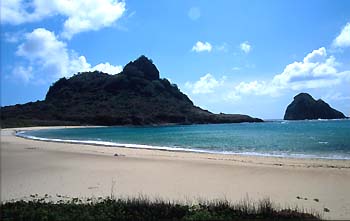 There are many other things to do on the island when not diving, as it is a nature reserve. There are several excellent trails and marine life encounter beaches. One morning we spent a few hours snorkeling with the turtles. These gentle giants bob on the shallow water of Sueste Bay. Coming within arm's reach, we observed as the turtle searched for breakfast. Later we visited the Tamar Project, which has a turtle museum, large outdoor turtle sculptures and a lot of information on their conservation.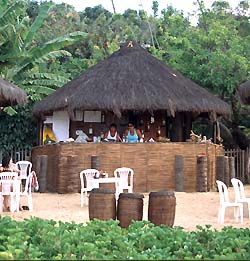 Diving is generally over by early afternoon. After cleaning our gear there is nothing left to do but explore a new beach. We walked down past the dive shop along a dirt road filled with large rocks. Then down a small path to Consecao Beach.
The pure white sand stretches out in a large crescent toward the jagged rock we had seen from the window of the plane. It is a beautiful bay with warm clear water and just enough waves for body-surfing.
This is a popular spot as the beach bar draws both tourists and locals on their days off. With a bamboo bar and thatched roof this was the place to be. Soothing music and a bathtub to rinse the salt and sand off completed the picture. We sat there sampling the local drinks made of Brazilian sugar cane alcohol mixed with crushed cashew fruit and ice. We marveled at the sparkling white surf. Everything was perfect.
Up to now we had several challenging dives and Daniel our dive guide was trying hard to show us the best locations as today was to be our last day of diving. After our morning dive we motored to a protected cove to sit out our surface interval under another brilliant Noronha day, when all of a sudden we were surrounded by dolphins. We were up the coast from Golfinhos Bay, a protected area, where spinner dolphins mate, have their offspring and feed. In the morning you can hike out to the bluff that overlooks the bay and watch the dolphins spin out of the water.
After taking several photos from the boat, I decided to get into the water and video the dolphins from below. As I prepared my dive gear, a black patch appeared on the surface of the water. As it approached I was able to make out its shape that of a ten-foot wide manta ray. In Brazilian, mantas are called 'Jamanta' which means, 'gigantic.' Now I really wanted to get into the water with my video camera.
Daniel looked over and saw I was preparing to dive and stopped me flat. He informed me that we were not allowed to get into the water if dolphins were around. I complained that I wanted to video the manta but all he could say was...sorry.
I sensed some excitement in Daniel's voice, as we got ready for our afternoon dive. The boat moved off and left the dolphins behind. We began our dive and followed Daniel as we swam vigorously into the current. After 25 minutes of hard swimming I had yet to take a single photo. Lynn looked over to me and gave me a non-verbal sigh as we were tiring fast. Just as we were about to give up with exhaustio, Daniel pointed upwards to show us two dolphins that were swimming towards us.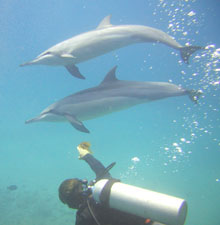 The two dolphins circled us a couple of times to check us out. When they were happy with what they saw, they disappeared briefly to alert the pod. All of a sudden, 30-40 dolphins surrounded us. The sentinels, as we learned later, scout ahead and warn the pod of danger. This time, they just went to get the gang to come and play.
I was taking video, spinning backwards as three dolphins did circles around me. The excitement grew as dolphins filled the water, darting in all directions. As I captured some amazing video, Lynn was happily taking stills and captured some emmorable close-ups including one of Daniel playing catch using a clump of seaweed. The dolphins tossed the ball between them as they circled Daniel's outstretched hand.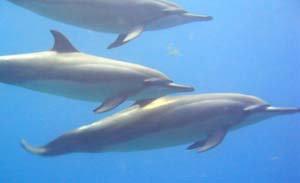 It was quite an experience, as the dolphins seemed to really enjoy our company. They swam and frolicked around us like playful kids, swimming in twos and threes making elegant patterns.
The 25 minutes of hard swimming and the 20 minutes of furious filming were starting to exhaust me. Still wanting more, I checked my dive computer, air gauge, camera battery and remaining video storage. Everything looked fine but Daniel motioned that enough was enough.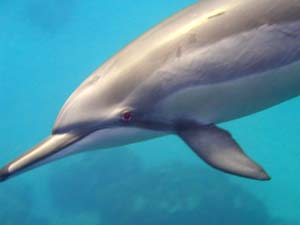 We had had more than our allowed time for the dive and much more time with the dolphins than most people ever experience. We found out how fortunate we were as that much time diving with dolphins is very rare. The whole island heard about it and were envious.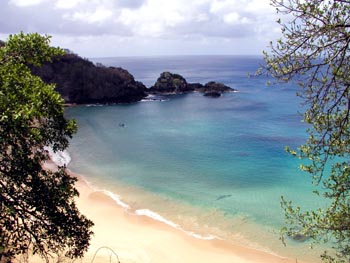 Our last afternoon was spent at Baia do Sancho, acclaimed as the finest beach in all of Brazil and maybe all of South America. We climbed down the face of the cliff through a sandstone crevices with the aid of a metal ladder. The difficult access was well worth the effort as we emerged on a totally unspoiled beach in a long crescent shaped bay.
Fernando de Noronha is truly a very special place. Maybe it was the exciting encounter with dolphins, with turtles, sharks and schools of fish. Maybe it was the pure white sand beaches with their sparkling white surf. Maybe it was the generously warm people that live on the island.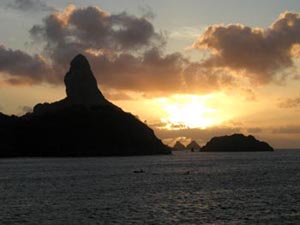 We stayed on Sancho Beach for another spectacular Noronha sunset and it was all so beautiful there; we felt close to nature and were transported emotionally and spiritually far from our familiar world. We felt honored to be in such a special place.
Story & Photographs by: Robert Aston and Lynn Jaye
Noronha Dive Sites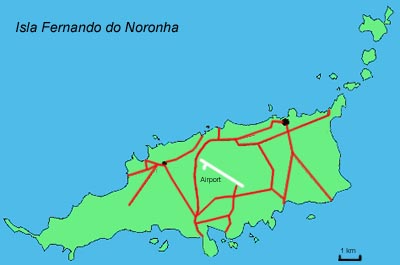 Mar de Dentro (Seaside)
Navio do Porto -- Shipwreck. The Greek cargo "»leani Stathatos" run aground in 1929 but sunk in 1946. Depth of 9 metres (Beginners)

Ilha do Meio -- lots of fishes in dens and caverns, till a depth of 15 meters (Beginners)

Ressurreta/Rata -- begins in a creek, in the channel begins a Drift-Dive. There are many points for beginners. Depth from 12 to 15 meters (Beginners)

Cagarras -- vista of green rock, sandy bottom with rays and eels. Depth to 30 meters (Intermediate)

Buraco do Inferno -- multi-options with depth from 6 to 24 meters (Beginners)

Pontal de Norte -- submerged rocks with a lot sea live. Depth up to 42 meters (Advanced)

Buraco das Cabras -- a drift-dive with some surge. Depth up to 15 meters

Pedras Secas -- offers two intermediate dives to 58 feet, large holes in the rocks were created by the Brazilian air force while conducting bomb-training exercises. A favorite dive location.

Ilha do Frade -- small island with sponges, colored corals and a bottom of fine and white sand Very good place for pictures. Depth of 20 meters (Intermediate)

Praia do Sancho -- ideal place for pictures. Depth up to 12 meters
Mar do Fora (Away from the sea)
Luias - No Mar de Fora -- group of rocks. Diving with a lot of fishes, turtles and sharks (Advanced)

Navio do Leo -- shipwreck in a small-protected bay. Depth of 8 meters (Beginners)

Ponta da Sapata -- option for cavern lovers. Depth from 27 e 35 meters (Intermediate)

Sapata -- submerged rocks with colored vertical walls. Depth of 42 meters (Advanced)

Corveta Ipiranga (CV 17) - deep of 63 meters. The ship is located in a position as is were still navigating (Advanced)

Laje Dois Irm"os -- coral slab with a lot of marine live, usually visited by ≥fine-peak≤ sharks. Depth of 24 meters (Intermediate)

Morro de Fora -- small island for rock adventures. Depth of 15 meters (Beginners)

Caverna da Sapata

Laje dois Imaos -- this dive is a coral slab with lost of marine life o a depth of 80 feet.