ZONA SUR
The last Wilderness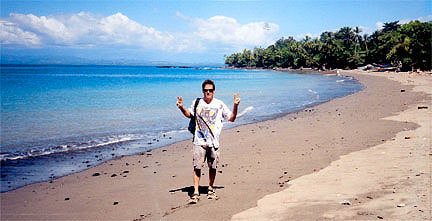 There are many airlines that fly to San Jose, Costa Rica. We took a red-eye as not to waste time. On-line we arranged a commuter flight in Costa Rica with Sansa Air from San Jose to Golfito. You can purchase your tickets and even print them out yourself.
Mapache, a local company, delivers vehicles to Golfito unlike many of the other rental agencies.
You definitely need a 4 wheel drive to get around Zona Sur. Our 4 WD, 4 door, Dahaitsu, was economical on gas and the rental price was reasonable. I suggest taking out all the insurance. The gravel roads just a few miles out of Golfito on your way to Pavones are pretty rough and full of pot holes. Be prepared for some crazy drivers. In recent years Ticos, (Costa Ricans) have made a switch from horses to vehicles without any drivers training.
We flew from San Jose over astonishingly beautiful coastline and vast marshland to a small airstrip in Golfito. This duty-free port on the Gulfo Dulce was once home of the United Fruit Company from 1930 to 1980. A Panamanian disease destroyed the banana crops, leaving behind a sleepy port town. We found Manuel from Mapache Car Rental waiting for us with our vehicle parked on the hot dusty dirt strip as we landed. Tired and barely awake, we knew we had an adventurous two hour drive to Pavones. We also knew the saying "Bring only Colones to Pavones", however it was Sunday and the banks were closed. The Hotel Sierra in Golfito exchanged some dollars for us. We found out later that you can use dollars just about anywhere in Costa Rica. We filled up on gas, $3.50 per gallon, and stopped by the super mercado on our way out of town. Both accepted Master Card. Remember to buy plenty of beer before heading to Pavones. Alcohol, including beer, is not sold in the few markets or restaurants there, as to not compete with the local Cantina.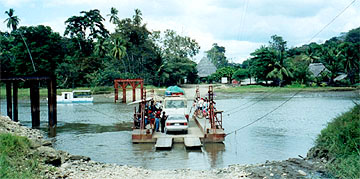 The Ferry across the Rio Coto was a great introduction into the wild lifestyle of the Zona Sur. You find yourself bracing the car door as you drive onto a metal ferry platform that guides you and your vehicle across the river via pulley for 500 colones, (approx. $1.50). The kids were starting to wonder where in the heck we were going. It was a jolting drive with breathtaking views, as we headed through the mountains towards the coast. Weaving through lush valleys, small Tico villages and banana plantations, we arrived in Pavones at sunset.
PAVONES -- Where the Wild West meets the South Pacific

Located along the edge of the pristine Peninsula de Burica near the Panamanian border are the white sand beaches, tranquil coves and flowing waterfalls of Pavones. This remote town is known among surfers for its perfect left break that seems to carry you forever. There is one Cantina, a surf shop, a gift shop, a few outdoor restaurants (sodas), and two markets. Electricity just arrived in Pavones five years ago, and not everyone has it.
Mark Scherman, a local from Pavones, sent me this message just before we left for Costa Rica....
"I received your e-mail with a little bit of amusement. You know that TV ad, well your visa wont work here! No credit card will work in Pavones, we are still in the dark ages in that department so bring cash, that is part of our charm. The other thing is hot water. No one has hot water except me. I have a solar water heater for my shower. The ocean is 80 degrees and the air is 80 degrees and the rivers are about 70 degrees. The weather is great no bugs. Last night we were on the beach with a bon fire and shooting fire works over the ocean. So don't worry and get down here!"
PAVONES
Mark Scherman is selling property in Pavones and was a great connection for us.
Contact him at: shermcr@hotmail.com
He found us a Cabina to stay in, there are several to choose from in Pavones, all within walking distance to town. Lodging and restaurants are very inexpensive in this area of Costa Rica. Plan on spending between $15 and $60 a night to accommodate a family of four, and meals range from $8.00 to $15.00 for four entrees and drinks. Fresh seafood is always available.
Every morning we were awaken by the sounds of jungle life. The people are friendly and reflect the innocence of an unspoiled lifestyle. Life is simple and the beaches are fun to surf, especially at the Rio Clara river mouth where cool refreshing water meets the ocean and its famous left break. The local surf shop, "Seakings Surf Adventure Center", owned by Alex and Amy rents out all the ocean toys including boards and kayaks. The local fisherman can take you into the scenic Gulfo Dulce and many ranchers rent out their horses for riding up into the jungle or along the beaches.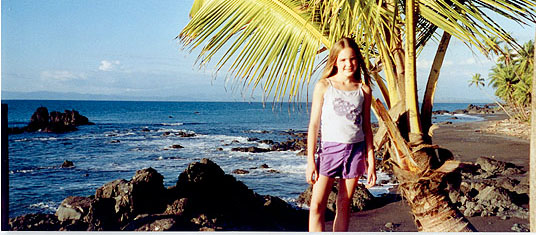 Our favorite day trip was Punta Banco just across the Rio Clara river from Pavones. This virginal coastline is an artist's dream, and its isolation makes you feel as if have just dropped off the map. There are areas to snorkel, catch fresh shell fish, rinse in fresh waterfalls, and just relax on its glistening white sand beaches. The ocean's strong current is not ideal for swimming but Ryan and Deanna had fun in the white water. There is always good surf in Punta Banco. The quaint village at the end of the road has a market and Cantina.
Story and photography by Denise D. Stansfield. Copyright ©2003-2005 All Rights Reserved.