La Paloma Lodge
La Paloma Lodge is the ultimate of adventures with one of the most biologically intense places on Earth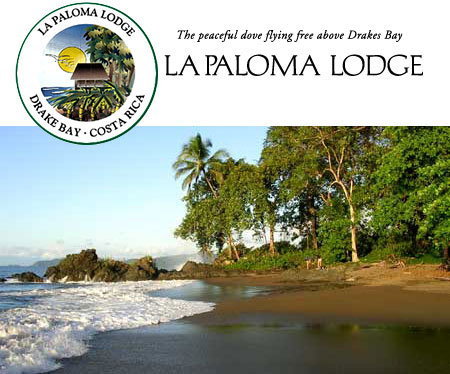 SCUBA
SNORKELING
JUNGLE TOURS
KAYAKING
SWIMMING
HIKING
HORSEBACK RIDING
Getting to La Paloma Lodge is the ultimate of adventures with one of the most biologically intense places on Earth. Compared to Raiders of the Lost Ark or Pirates of the Caribbean, this trek is the real thing! After a 15-minute "Rambo" ride through the jungle, we arrived at the beach where a boat was waiting to take us to our destination. It's a good idea to wear shorts and shoes that can get wet because that is guaranteed.
We motored for ten minutes along spectacular coastline, where lush rainforest sweeps down verdant mountainsides sloping into the rocky cliffs above the warm Pacific Ocean. Perched high along these cliffs overlooking Drakes Bay were the villas of La Paloma Lodge, only minutes from Cano Island and Corcovado National Park. We entered a river mouth and soon stepped onto La Paloma Lodge's dock.
A steep walk up to the lodge led us into another world, where the magic of the rainforests comes alive. The climb was rewarded with fresh smoothies from the bar in the main open-air lodge. This is the social gathering place where people meet and share the wonderful experiences of their day.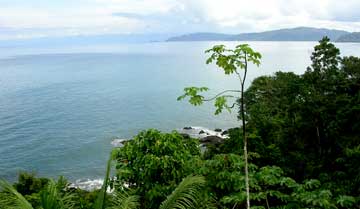 La Paloma feels like home. We were immediately impressed with its comfortable elegance and peaceful surroundings. We were amazed to come all this way to met a couple from Santa Cruz with their 16 year-old niece. We were in the middle of nowhere, and yet I guess, lovers of nature find themselves in the same places.
Mike Kalmbach, the owner and his daughter Kate, warmly greeted us and walked us to our villa. Mike has many a personal stories to tell about La Paloma and his survival in his early days in Costa Rica.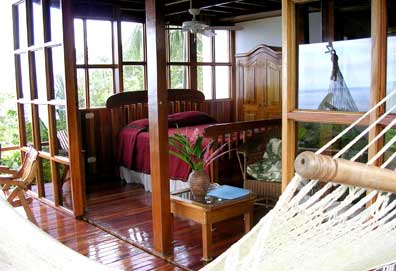 La Paloma is architecturally amazing. Since its first structure was built in 1986, the Kalmbach family has made their dreams into a reality. Nestled into the lush hillside are eleven enchanting open-air villas, with breathtaking views from every direction.
The simple design made of teak and bamboo is accented with fine linens and Guatemalan textiles. This was not an easy creation. All materials had to be brought in by boat, down the Sierpe River that connects to the Inter-American Highway. There are four standard villas, five rancheros, and two sunset rancheros located on the two farthest points jutting out to the sea.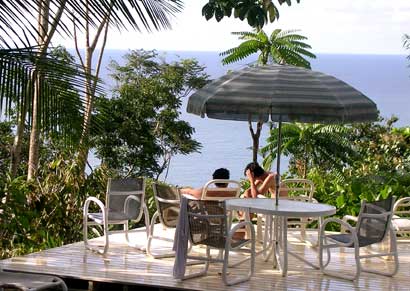 We had a wonderful dinner that night, seated in a formal setting of a long table amongst 12 guests. The chef prepared exotic Indian dishes, accompanied by fresh fish, good wine and fun conversation. The cuisine at La Paloma's is simple, with a large selection of fresh fruits and vegetables, whole grains, seafood, poultry and occasional beef dishes. There are always optional vegetarian choices, depending on your dietary preferences.
A group after dinner prepared for the night hike with the 'bug lady,' one of the many night tours offered at La Paloma. We retired to our villa, falling asleep to the rhythm of the surf and the sweet scents of hibiscus and orchids in the moist ocean air under a starry night.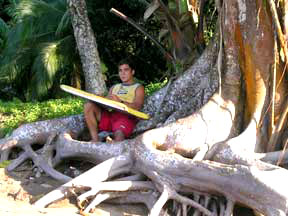 There are many activities to choose from including nature tours, snorkeling, scuba and horseback riding. Miles of rainforest and beach trails are easily accessible by foot, on horseback or by boat.If you choose to relax, La Paloma offers massage and yoga classes or you can just lounge around the pool with a good book while taking in the incredible views. There is also a beautiful beach below the lodge and it was safe for our children to wander down the trail and go swimming there.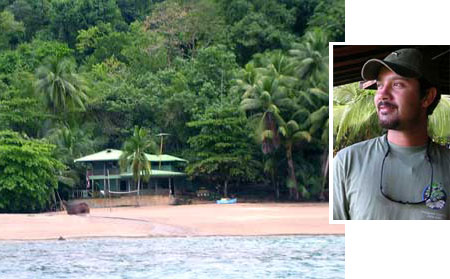 On our first day, we decided to visit Cano Island for a day of snorkeling and diving. This was a chance to experience some of the best in all of Costa Rica. Randall, La Paloma's naturalist, took us on a 35-minute boat ride out to the island. Deanna and Ryan were excited to spot schools of bottlenose and spinner dolphins breaching the water. Jurassic Park was filmed on this 600-acre prehistoric island. The humpback whales migrate past the island yearly, their populations increasing due to the 86-degree water temperature which is heating up due to global warming.
Cano means 'fresh water' and is known for its abundant streams and waterfalls. There are many different species of plants and trees but little wildlife on land in contrast to the diverse surrounding marine life. In the late 1970s the United Fruit Company wiped the island clean of all its pre-Columbian artifacts. The large spheres you read about in books are no longer here. Today, the island is a protected national park.
We checked in at the ranger station located on the northern leeward side of the island, the only area accessible to land. The rest of the island is protected and off-limits. Our morning snorkel was in depths of 5 to 30 feet over rock and coral formations. We spotted needlefish, parrotfish, several puffers, and hogfish. The visibility was fair since the wind was picking up and it looked like it might rain. It really did not matter, the kids loved it and the currents were mild.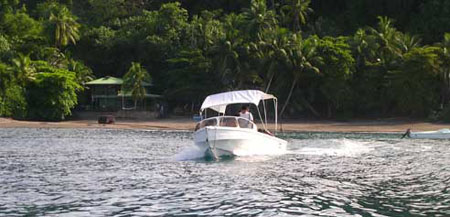 The beach near the ranger station is a resting place where visitors relax, picnic, play volleyball and lounge on the warm sand while sharing conversation with fellow travelers. After a lunch break, we snorkeled just offshore with better sunlight giving us great visibility to view a teeming display of tropical fish.
Back at the lodge, they had their annual Christmas party, which is the biggest event of the year for the Drakes Bay locals. This event was a local affair with full buffet and Tico games. One of the staff that was quite the entertainer got me out on the dance floor to the sounds of Marenge. I later found out that I was dancing with my dive master. Wilson enjoys sharing his love for his past three years of diving with the many guests of La Paloma. He emphasizes the importance of making the dive spots accessible to all levels of experience, keeping the groups small and honoring the ocean, its reefs and marine life. La Paloma offers a full dive shop and features a 36-foot catamaran powerboat, the best in the area.
My dives on the second day of our stay were fantastic. We dove Devil's rock, one mile off the Cano Island, where hard and soft corals lead you down an 80-150 foot wall schooling with fish. On any given day you may spot large pelagic fish. The greatest chance for finding manta rays is at Diablo Rock, one-mile off Cano island. Paradise which is four miles off Cano island, is another good location for diving with mantas.
My second dive was at El Barco, a quarter-mile from Cano island. There I was surrounded by schools of white-tip sharks in 50-60 feet of water. The visibility on both dives was between 40-80 feet which was dependent on the amount of sunlight.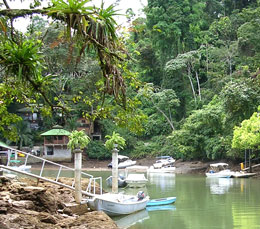 Everyone and everything is full of life at La Paloma. It is clear to see that the Kalmbachs have extended their hearts to the Drakes Bay community. They sponsor the local school and their eco-lodge is dedicated to preserving the earth's limited resources. Sarongs are provided rather than towels to limit water usage, Tupperware replaces disposable plastics, and trash reduction is a way of life.
They recycle and compost everything. La Paloma also plays a major role in the conservation of the Osa Rainforest and the protection of its pristine paradise through Fundacion Corcovado, an organization dedicated to that goal.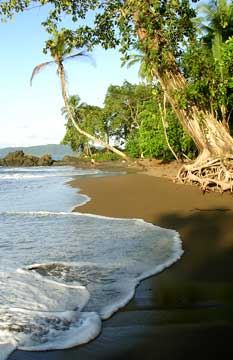 The exciting days at Cano Island were spent with a wonderful group of guests, warm hosts, impeccable service and beautiful surroundings. Our four day/three night visit was far too short. I highly suggest staying at least four nights or more in the tropical paradise of La Paloma Lodge.
Website: www.lapalomalodge.com
Lodging: $1000.00-1210.00 pp - 3 nights, 4 days
$1130.00-1555.00 - 4 nights/5 days
Includes: Round-trip air, taxi and boat transportation San Jose/La Paloma, all meals, full-day guided tour to Corcovado National Park, full-day guided tour to Cano Island, park fees and taxes.
Extra tours and diving packages are also available
Story and photography by Denise D. Stansfield. Copyright ©2000 All Rights Reserved.