Roatan, Honduras

The Best of the Bay Islands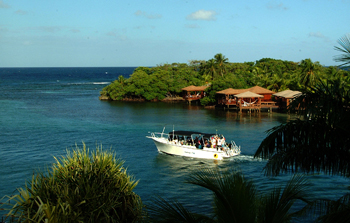 The island of Roatan has long been known as one of the top Caribbean dive destinations. Pioneering the area's diving back in the1970s, the family owned and operated Anthony's Key Resort has been a repeated favorite of divers and snorkelers. Offering many more activities than diving and home to the
Dolphin Marine Sanctuary since 1990, Anthony's packs a lot of fun into one or two week packages. The easiest way to travel to Roatan from the east coast of the United States is through Miami, Florida. Coming from the West Coast generally requires connecting through Houston, Texas. We highly recommend direct flights from the U.S. to Roatan as connecting through San Pedro Sula can burn a lot of travel time. Both Continental and Taca airlines fly in and out of Roatan every Saturday. American and US Air may soon offer direct flights.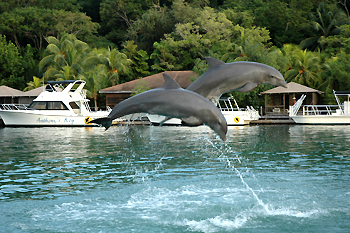 Arriving at the resort, we settled into our beautiful wooden bungalow which stood at the water's edge on stilts. Anthony's Key is a short water taxi ride from the main resort complex. We began to plan our activities. As we were to find out, we could not pack everything there is to do into six short days.
Anthony's offers a very special treat to get up close and personal with bottlenose dolphins. Roatan Institute of Marine Sciences (RIMS) located in the resort, has been raising, studying and providing dolphin encounters for more than 13 years. There is even a Dolphin Discovery Scuba Camp for children ages 10-14.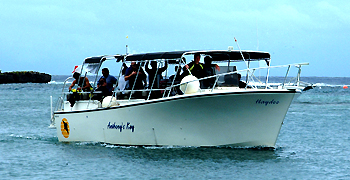 Diving is a central feature of Anthony's Key Resort and diving is really why we came here. Cameras and dive equipment ready, Lynn and I were assigned to one of their specially-designed dive boats for the week. Most of the dive sites are so close that we could do one dive and return to shore to snack and get ready for the next dive. A few of the dive sites are located on the other side of the island which required a longer boat ride but was rewarded by some of the best diving. This includes Mary's Place our favorite dive site and an exciting shark dive.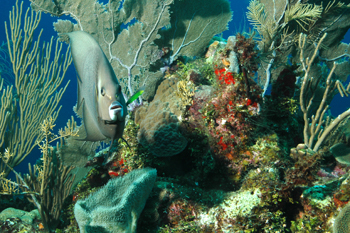 Anthony's Key has more than thirty years experience locating the best dive sites around the island. There are about 35 dive sites within five to thirty minutes from the dock. Along the reef slopes are gently swaying sea fans that grow parallel to the shore and are home to a multitude of fish including snapper, grouper, angelfish and single-spot butterfly fish. Eagle rays and hawksbill turtles are often seen.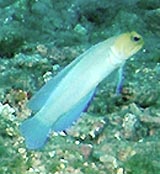 As we dropped off the large dive deck, Alfonso, our divermaster motioned to the deep as an eagle ray drifted silently by. Dropping into Mindy's Eel Garden we found the sandy bottom but the eels were hiding. Garden eels are always a challenge even with the best of underwater cameras. The dive site was very beautiful with several coral heads fringing the sandy area. Pillar corals could be seen like castles in the sand.
Alfonso is always on the lookout for interesting creatures concealed from the casual diver. He motioned to me to come and look. Sticking out of the sandy bottom were not the usual sly garden eels but three yellow-headed jawfish (opistognathus aurifons) no bigger than my little-finger. A little less challenging to photograph than garden eels, I settled down and patiently waited for the tiny sand-dwellers to emerge.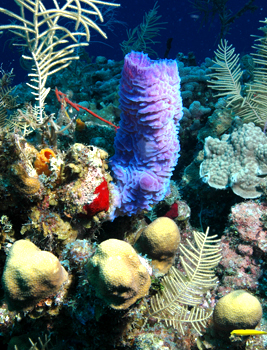 Iridescent azure vase sponges (callyspngia plicifera) protrude from the corals and appear as diamonds in the rough. This one measures six inches but larger ones can often be found. As I looked closer, a pair of fully extended brown feather duster worms waited impatiently to be photographed.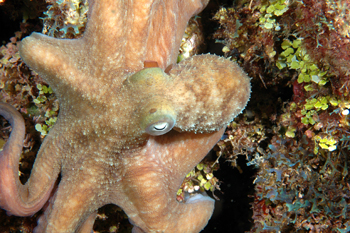 We were able to fit in the two night dives that are available each week. The dives site are close to the resort and in the warm water full of night life there are many photographic opportunities. Octopus, lobster and giant king crabs are out hunting in the dark. Eels swim free of their crevices. We were lucky to surface under a nearly full Caribbean moon.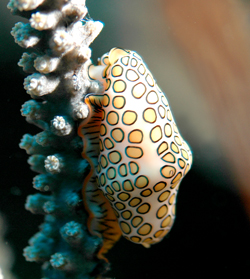 Many of the dive sites are covered with lush gorgonians fans. Hidden in the dense gorgonian forest are flamingo tongue snails (cyphoma gibbosum). The yellow and black dots are not on the shell but are actually a layer of living tissue connected to the snail's foot that covers its all-white shell. This exposed tissue works like a fish's gills, exchanging oxygen and carbon dioxide with the water so that the snail can breathe. As this snail crawls along the branch of coral, it digests the coral animals. This gastropod, which means stomach-footed, literally eats with its feet.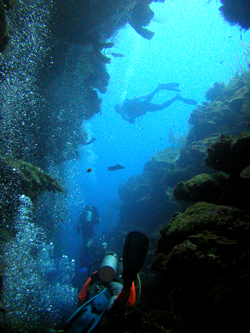 On the far side of the island is Mary's Place considered by many to be Roatan's best dive site. With two vertical swim-throughs and a large variety of ocean life, this dive site did not disappoint us. The crevices were full of large fans, corals, sponges and tiny creatures. Branded shrimp, flamingo tongues and, if you get lucky, a seahorse could be spotted hiding in the coral.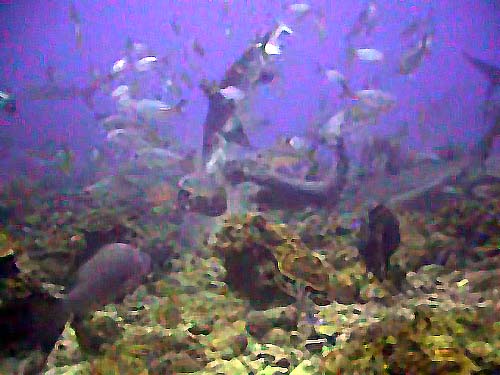 Off Roatan's south side is where you can observe as many as a dozen Caribbean Reef Sharks. The trained professionals feed the reef sharks while divers observe. Countless other fish partake in the feast.

The diversity of diving off Roatan also includes two exciting wreck dives. The sinking of the 300-foot Odyssey off the north coast has created one of the Caribbean's largest shipwrecks. We followed the dive master down the anchor line to the Odyssey resting on a sandy flat in 120 feet of water. I watched holding my camera equipment as divers disappeared through the deck to explore the bulwarks and cargo hole level below at 80 feet. Only being sunk two years ago, the top surfaces were already showing signs of being converted to an artificial reef.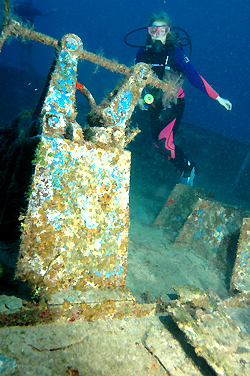 We did not get a chance to dive the Aquila. This freighter originally sank eight years ago around the Utila Keys, but has been brought to Roatan by Anthony's Key Resort and is now resting perfectly upright on a sandy bottom in about 100 feet of water.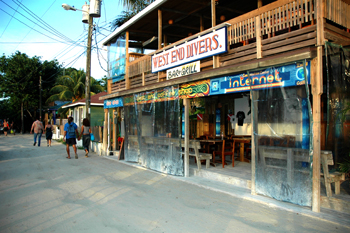 In addition to unlimited shore diving, the large number of dive sites meant that you could dive all week and not repeat a single location. However, we would of liked to dive Mary's Place a second time. I spoke to one "gung-ho" diver who told me she did 24 dives in her six days of diving. We decided to limit our diving to 15 dives to reserve time and energy for the many other activities offered.
There are several areas to visit outside the resort including the town of West End, the resort beach area of West Bay Beach and Garifuna Village. Visit Carambola Gardens where there is an amazing variety of orchids, the Butterfly Gardens, the Galindo Tropical Bird Park or the Iguana Farm with more than 2,500 lizards on the grounds. There are even canopy tours to ride high in the rain forest and discover the natural flora and wildlife that exist on the island.
For the present, the town of West End has retained its early culture with a beach sand main street, tiny shops, waterfront restaurants and lively bars. We spent two evenings wandering the shops looking for treasures to bring home for Christmas gifts. although there are numerous places on the west side of the island to watch the sun go down, a brilliant sunset after a storm can be enjoyed at a waterfront restaurant deck sipping a tropical delight in West End.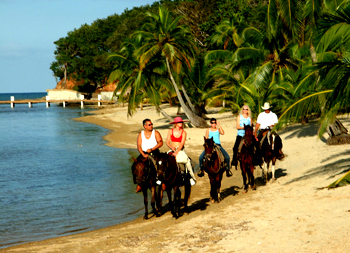 I have only been on horseback twice in the last few years and both times it was on my birthday. This year the sun shone warm as we explored the beach to the north of the resort. From the very start, horseback riding has been an important part of the Anthony's Key experience.
For centuries, Paya Indians inhabited Roatan, until the 16th century when the Spanish raided the island. Later Henry Morgan and his band of 5,000 pirates invaded it. Rebellious African slaves of the British were also sent there: the descendants, once called Maroons for marooned slave, now reside in Garifuna village near Punta Gorda. Their ancient culture remains intact.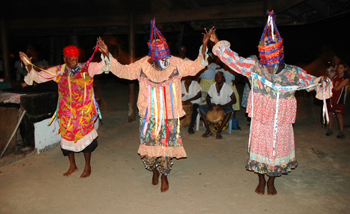 Anthony's Key is a full-service resort which offers three meals a day, unlimited water sports, horseback riding and specially scheduled events including fish ID slideshows, dolphin shows and RIMS educational activities. The covered and open air dining area serves a full breakfast selection a choice of appetizers and entrees at lunch and dinner along with freshly baked breads. The meals are hearty and delicious and served by some of the friendliest waiters in the world. The deck is also a great place to catch the sunset overlooking the lagoon, Anthony's Key islet and Bailey's Key, where the dolphin encounters are held. There is even live music in the world famous Frangipani Bar.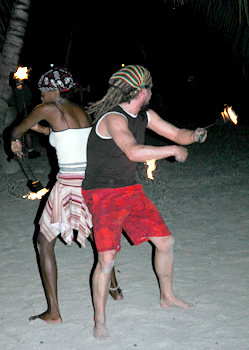 Once a week, the resort organizs a lively beach party and barbecue at Tabyana beach, an Island Fiesta Night and a luncheon on the key. The Island Fiesta Night is held on Anthony's Key with a barbecue, Garifuna dancers, and fire dancers in the sand. There is also live music, a limbo contest, and crab races. Garifuna dancers entertain to the sounds of drums. These dancers have retained their culture and dress in traditional costumes. The males dancers dress as women as they once did to conceal their presence from slave traders.Everyone was mesmerized as the fire dancers swirled their flaming torches in the star-lit Caribbean night. The live band played and the conga drums echoed through the palm trees.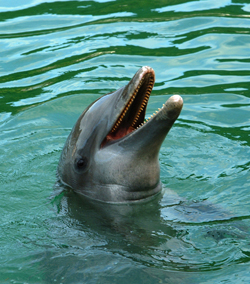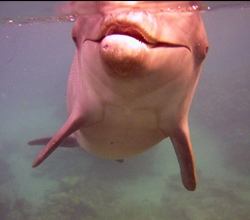 Above or below water, these happy dolphins are a pleasure to encounter. After being introduced to a dolphin who allows you to pet him, he performs for you and kisses you. Then you can snorkel in the shallow waters of the sanctuary and play "catch the crab shell" with one of the juveniles.
An open water experience is also offered where you can scuba dive with one or two of the older dolphins. Some of them have had more than 13 years of training and are treated to daily open water experiences. During our dive, one of the dolphins stopped in front of each diver to receive a hug and a rub. I could hear Lynn laughing with delight as she played with her new friend.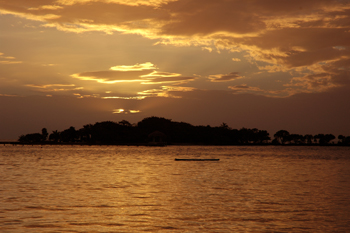 Our week at Anthony's Key was in November at the beginning of the rainy season and after the whale sharks had departed. although we must return another day to swim with these gentle giants, our time here was packed with excitement. We hardly had time to relax! Diving is year round, rain or shine and we were lucky to have only had a few rainy days. The billowing white clouds and the fresh air only added to the spectacular nightly sunset.

[Click Here] for more images of dolphins, diving and Anthony Key's Resort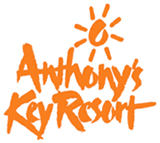 Leave your kids with the Dolphins (Advertisment)
Introduce your kids to diving in a one week program combining basic PADI courses and experiential education sessions working with dolphin trainers.


Roatan Dive Sites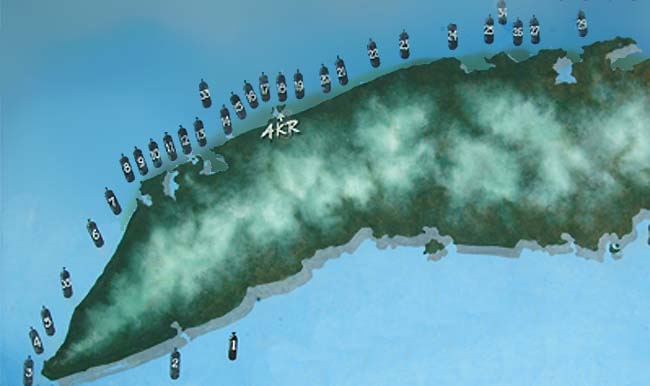 A selection of the best dive sites are described below. We hope to complete a comprehensive listing after our next visit to Roatan.
#1 Mary's Place, Max. Depth 80'
#2 Kara Kara Shark Dive, Max. Depth 75'
#3 Herbie's Place, Max. Depth 55'
#5 Mindy's eel Garden, Max. Depth 60'
# Blue Channel, Max. Depth 60'
#11 Canyon Reef, Max. Depth 65'
#14 Overheat, Max. Depth 55'
#17 Deep Eel Garden, Max. Depth 45'
#18 Dolphin Dive, Max. Depth 55'
#20 Peter's Place, Max. Depth 85'
#23 Wayne's Place, Max. Depth 60'
#25 Four Sponge, Max. Depth 75'
#33 Melissa's Reef, Max. Depth 60'
#34 Odyssey, multi-level ship, depth: 112 feet, sunk in: 2002, North coast of Roatan, a 12-minute boat ride from AKR (Skill: Wreck diver certification is recommended)
OTE Magazine would like to thank:
Anthony Kkey Resort
Website: www.anthonyskey.com
Email: akr@gloalnet.hn

U.S. Toll Free: 800-227-3483


Story & Photographs by: Robert Aston and Lynn Jaye
Return to Destination Map