French Polynesia
French Polynesia is located halfway between Los Angeles and Sydney in the South Pacific. Papeete is the major city and site of the international airport. There are three major island groups: The Society Islands (Tahiti, Moorea, Huahine, Raiatea, Maupiti and Bora Bora); The Tuamotu Atolls (Rangiroa, Manihi, Mataiva and Fakarava); and the Marquesas Islands.
French Polynesia is accessible by air from most parts of the world. Air Tahiti Nui, Air New Zealand, Air France, Qantas, AOM French Airways, Corsair and even Hawaiian Air serve Faaa International Airport. Inter-island connections are mostly by Air Tahiti with jet service even to the outer islands.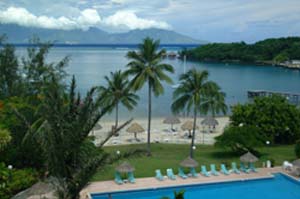 Travel from the West Coast of the United States is primarily from Los Angeles. Corsair flies out of Oakland and Air New Zealand provides United Airlines connections from San Francisco. There is no departure tax in French Polynesia. Luggage weight restriction may apply especially on inter-island flights.
French Polynesia is scattered over 1.5 million square miles of ocean in the eastern South Pacific. French Polynesia is 10 hours behind Greenwich Mean Time, 2 hours behind US Pacific Standard Time (PST), and 20 hours behind Australian EST.
Black Pearl Shopping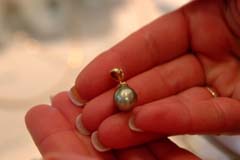 French Polynesia produces the most sought after south seas Black Pearl from the "Pictada margaritifera" oyster. Nurtured in the warm-water lagoons such as Manihi, Rangiroa and Fakarava, these jewels embody the beauty, magic and charm of the South Pacific.
Black pearls come in a variety of shapes, from perfectly round to pear shaped to baroque. Colors range from pure black, green, aubergine, blue-tinged, reddish-bronze, steel gray, pinkish and even white. One of the most sought after colors is iridescent green known as "fly's wing" with spectacular luster. The best prices are obtained in the outer islands where the oysters are framed, along roadside shops and through small independent sellers. Major hotels, large pearl farms and in Papeete generally offer high-quality settings that carry prices several times more than can be obtained through small distributors.
Woodcarving is done mostly by men employing local hardwoods such as "tou," a variety of purple wood, and "miro," a local rosewood. Ancestral graphic and symbolic designs adorn spears, war clubs, "umete" or fruit bowls and other serving utensils. The Marquesans excel in woodcarving and provide many opportunities for the collection of travel gifts.
Photography
Whether it is a hike to volcanic pinnacle, along an isolated beach, through a jungle path or a stroll to town for shopping or croissant and coffee, photo opportunities await around every corner. Bring plenty of film (or disk space), sun screen, water, lightweight hiking shoes and maybe a sweat band or two.
Site:
Tahati
French Polynesia
17° 34' 32.7684" S, 149° 29' 7.7064" W
PF